Proteolytic Enzymes Are Effective For Improving Atherosclerosis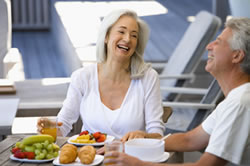 At our Manhattan, NY clinic in Murray Hill, Dr. John W Phelts, DC sees many people who have cardiovascular conditions. He often recommends proteolytic enzymes, because research shows that they benefit the cardiovascular system by decreasing inflammation, blood viscosity, artery plaquing, scar tissue, cholesterol, and triglycerides. They also decrease blood pressure, angina, and stroke risk.
In a recent study compared nattokinase to Statin drugs for the treatment of atherosclerosis and hyperlipidemia. 82 patients were split into two groups and were given daily either 6000 FU of atherosclerosis or 20 mg of simvastatin The study occurred over a period of 26 weeks. Both groups yielded a significant decreased in carotid artery thickness. The nattokinase group had a 36.6% reduction in plaque size compared to only an 11.5% change in simvastatin. Both groups experienced a significant decrease in total cholesterol, LDLs (low density lipoproteins), and triglycerides. The authors concluded that "Our findings from this pioneer clinical study suggests that daily NK supplementation is an effective way to manage the progression of atherosclerosis and potentially may be a better alternative to statins which are commonly used to reduce atherosclerosis and further to prevent cardiovascular attack and stroke in patients. "
Dr. Phelts performs a simple test to see if proteolytic enzymes may help someone who has a cardiovascular condition. For patients who have atherosclerosis, he may test additional substances, such as antioxidants, collagen, manganese, and methylsulfonylmethane (MSM) to see if they may help as well. Dr. Phelts uses applied kinesiology in the treatment of various conditions to help his patients get better and stay better. Call our office at 212-286-2012. We are located in midtown Manhattan near the 10016, 10017, and 10018 zip codes.
Sources:
https://www.ncbi.nlm.nih.gov/pubmed/28763875